Starting your own business with TaxAssist Accountants means you will have a proven business model to follow. We are with you throughout your journey offering comprehensive initial training and full technical, marketing and business development support for you and your practice. When you are ready to sell your practice, we can help you realise the value of your asset, on many occasions achieving prices in excess of the industry norms.
With TaxAssist Accountants, your business will have the marketing power of a national brand. Our proven lead generation service delivers the right prospects to grow your practice, while your own responsive website and online marketing campaigns increase your visibility locally.
Our training keeps you and your staff ahead of the curve. Bespoke training and technical support is delivered when you and your team need it to help ensure your business remains the local market leader, operating to the highest professional standards.
Our awards speak for themselves and we picked up the 'Best Marketing Campaign' award at the Irish Franchise Awards. We are full members of the Irish Franchise Association and adhere to their Code of Ethical Conduct.
6 key reasons why people invest with TaxAssist Accountants
Discover our franchisees' motivations for joining us and being part of an established and successful network.
Work locally
Be your own boss
Build an asset
Award winning support
Multiple income streams
Scale your business
What our Franchisees say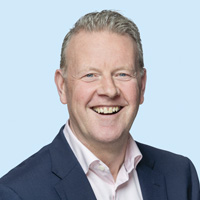 Roy Finucane
TaxAssist Accountant
" I started my own business with TaxAssist Accountants to deliver a better lifestyle and a brighter future for my family. I value the comfort of the ongoing technical support and the access to excellent sales and marketing training. "
Gary Cullen
TaxAssist Accountant
" My experience was largely technical, not sales or marketing, and I felt the TaxAssist model would fill these gaps in my skill set. I now have over 300 clients, generating an income and flexibility that couldn't have been achieved on the corporate ladder. "
How does it work? It's simple!
Download prospectus
To find out more about our franchise, take a look at our Franchise Prospectus. You can discover more about our franchise model, earning potential, our marketplace, our franchise package, the Initial Training Course, and more. Download our latest Prospectus.
Get in touch
Call us on 1800 98 76 09 or contact us, and we will arrange a convenient time for you to have a confidential chat.
Attend a Discovery Day
The franchise Discovery Day is a no-obligation information day, designed to answer all of your questions about the TaxAssist Accountants franchise and a chance for you to meet the staff and Directors of the Support Centre who will be helping you grow your business.
Take the next step
Now in receipt of your Discovery Day knowledge, you will be able to carry out your research, complete a business plan and arrange any finance if necessary. Once you are happy, all that remains is to book your place on the next available training course!
Join us for a
Discovery Day
Attend a Discovery Day where you can learn more about how you can build a successful accounting practice, our business model and the award-winning support we provide to our franchisees. It is a chance to meet with the Directors and Senior Support Staff, to hear presentations on the key elements of the franchise and have a 1-2-1 discussion. For us, it is a chance to show you what a great opportunity is on offer and to discuss whether TaxAssist Accountants is right for you.
Ways you can join TaxAssist Accountants
Whether you have a business or financial background, or are currently an accountant already, we have options nationwide to purchase new territories, convert your own practice or purchase existing practices for sale.
1
Build it
Grow your own accounting practice in your local area following our proven franchise model.
2
Buy it
Buy an established business for sale and build on an existing, regular monthly income.
3
Convert it
Convert your existing practice to benefit from the TaxAssist brand and support.
Ethics and Accreditations
TaxAssist Accountants has an enviable reputation in the franchise industry, and we have won awards for the support we provide to franchisees. We are full members of the Irish Franchise Association and adhere to their Code of Ethical Conduct.
Latest News
TaxAssist Accountants delivers personalised Budget 2023 highlights
Jan 2023
On the day of the Budget, TaxAssist Accountants was pleased to provide its franchisees with material to share and communicate with clients, local press and business referral contacts.
Sign up to our newsletter
Receive our latest franchise news and information every month.